Multihull Seamanship is an A-Z for multihull sailors.
There are many textbooks on the market which detail general seamanship principles. This is not one of them. This text is about catamarans and trimarans and the skills needed to understand and enjoy them to the utmost.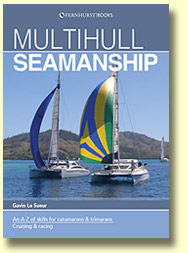 "Could literally be life saving. Anyone preparing to build, buy or just sail a multihull would be advised to read this book."
MULTIHULL WORLD
Both racing and cruising multihull yachts are catered for, as are trailerable multihulls.
Multihull Seamanship started as Dr Gavin LeSueur's personal index of 'how-to's'. It has grown through experience and by others sharing their knowledge. Seamanship is not a black and white skill. It is an evolution of knowledge; a building of information through experiment, thought and experience.
CLICK on the highlighted Chapters in the Table of Contents to the right to see samples of pages.
Multihull Seamanship costs Aud $39.00
+ 10% GST in Aus only
All dollar amounts are Australian Dollars.
BUY ONLINE
OR orders to PO Box 7338 Cairns 4870 Australia
Phone ISD +61 740550101
Multihull Seamanship | Windswept | The Line | About Gavin | Shopcart | Payment | Contact Us | Links | Home