The Line
Not just a boat race.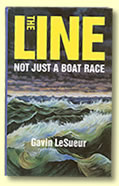 A multihull experience from the first page. 8000 miles of drama, tragedy and triumph in the toughest coastal race in the world - around Australia. Getting there was a battle, surviving the first night was a drama and then the drama began.
"A real adventure story ... more than its fair share of controversy ... a great read ... particularly on multihulls."
Australian Yachting Magazine
After being plucked from a liferaft in the gale torn Tasman Sea, LeSueur wrote his best seller - Windswept. The security of dry land did not last long. The Line is about jumping out of the frying pan - and into the fire.
The Line is about fear, about love, and about perseverance. It is also a great adventure.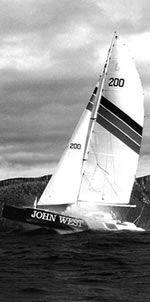 The Line costs Aud $29.95
+ 10% GST in Aus only
All dollar amounts are Australian Dollars.
BUY ONLINE
OR orders to PO Box 7338 Cairns 4870 Australia
Phone ISD +61 740550101
Multihull Seamanship | Windswept | The Line | About Gavin | Shopcart | Payment | Contact Us | Links | Home
Reviews
"Not only is The Line great reading, but the reality of the story, the truth in every line, is quite inspirational. LeSueur has an impressive ability to capture the moment."
The Magnet
"An enthralling blend of adventure and human interest. I thoroughly recommend it."
Terry Travers - Multihull World Magazine
BUY ONLINE NOW!